Half-Pipe Mega Star
About
Half-Pipe Mega Star was made for Trijam #50 in three hours. Since the theme is "Not the game you think it was" I won't tell much about the game, please discover it for yourself!
Story
You are Sam, the best skateboarder your city has to offer! But are your skills enough to win this year's championship and claim the title Half-Pipe Mega Star? Get on board and witness Sam performing tricks the world has never seen before!
How to play
The only input you need is your space key.
Licences
This game was made with with Godot. The font, sound effects and music are the work of others:
See also the licence information included in the downloadable archives and linked on the web version's landing page for details.
Download
Comments
Log in with itch.io to leave a comment.
Cover art for this game is really well-done btw
Really excellent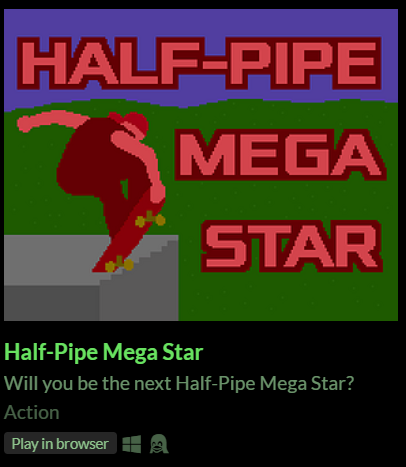 Very nice! Gets very repetitive after a bit, but always a bit of fun.
I really like the characterization of your rival in the skater tournament.
Thank you, also for your comment on the cover art. :) I agree on the repetitiveness. Don't know which rival you're referring to, though, the description is about the player character. Is the text ambiguous?
(no I was making a joke lol. Implying the game was more of a skater game than it actually is with a skater tournament and a skater rival haha. Playing along with the description/jam theme premise)
Ah, alright, you got me! Thanks for explaining and sorry I didn't get it. :D